ArcheoBike is a short excursion by bicycle with a guided tour of the archaeological park of Palazzo di Baldu and the church of Santo Stefano, organized by the Municipal Tourist Office in collaboration with Sardinia Bike Service and archaeologists of the University of Cagliari. Participation is free and requires a reservation at 0796018959.
The archaeological site
Lu Palazzu di Baldu is the ruin of a medieval palace that belonged to the Visconti di Pisa family, who ruled over the Giudicato di Gallura in the 13th century, one of the four kingdoms in which Sardinia was divided from 11th to 15th century. Of the Romanesque-style building one can today admire three walls of ten meters in width and height, set on a shoe base. The building is located within a courtyard of about 800 square meters, closed by sixteen rooms used for different uses. During recent archaeological excavations, important finds of glass and ceramics, a furnace, a circular structure dating back to the Bronze Age and some burials near the adjacent church of Santo Stefano were brought to light. The area is embellished with walled tafoni and ancient trees. A few meters from the building is the gjésgia of Santu Stévanu, perhaps the only remaining building of an ancient village reported in a document of the XIV century with the Catalan name of Sent Steva. The current architecture, faithful to the classic typology of Gallura country churches, is the result of an eighteenth-century reconstruction and a 20th-century conservative restoration. In the altar you can admire the marble statue of Stefano protomartire.
The excursion
It starts from the square of the Basilica with its own bike or from the company Sardinia Bike Service (to be booked) on urban, provincial and municipal asphalt roads, for a total of about 5 kilometers, without any particular height differences. It is recommended to wear a helmet and suitable clothing and to bring a supply of water and a snack. Upon arrival, participants will be able to pay a visit to the archaeological area with the guide of researchers and students of the School of Archeology and Community of the University of Cagliari. At the end of the visit, participants will be able to return to Luogosanto on the same journey as the first leg or lengthen the excursion, with the Sardinia Bike Service guide, going up the hill between Balajana and Canaili. In this case, the return can last from 45 to 90 minutes (excluding breaks) and is aimed at people in perfect physical shape and with good cycling skills (see planimetry and elevation profile).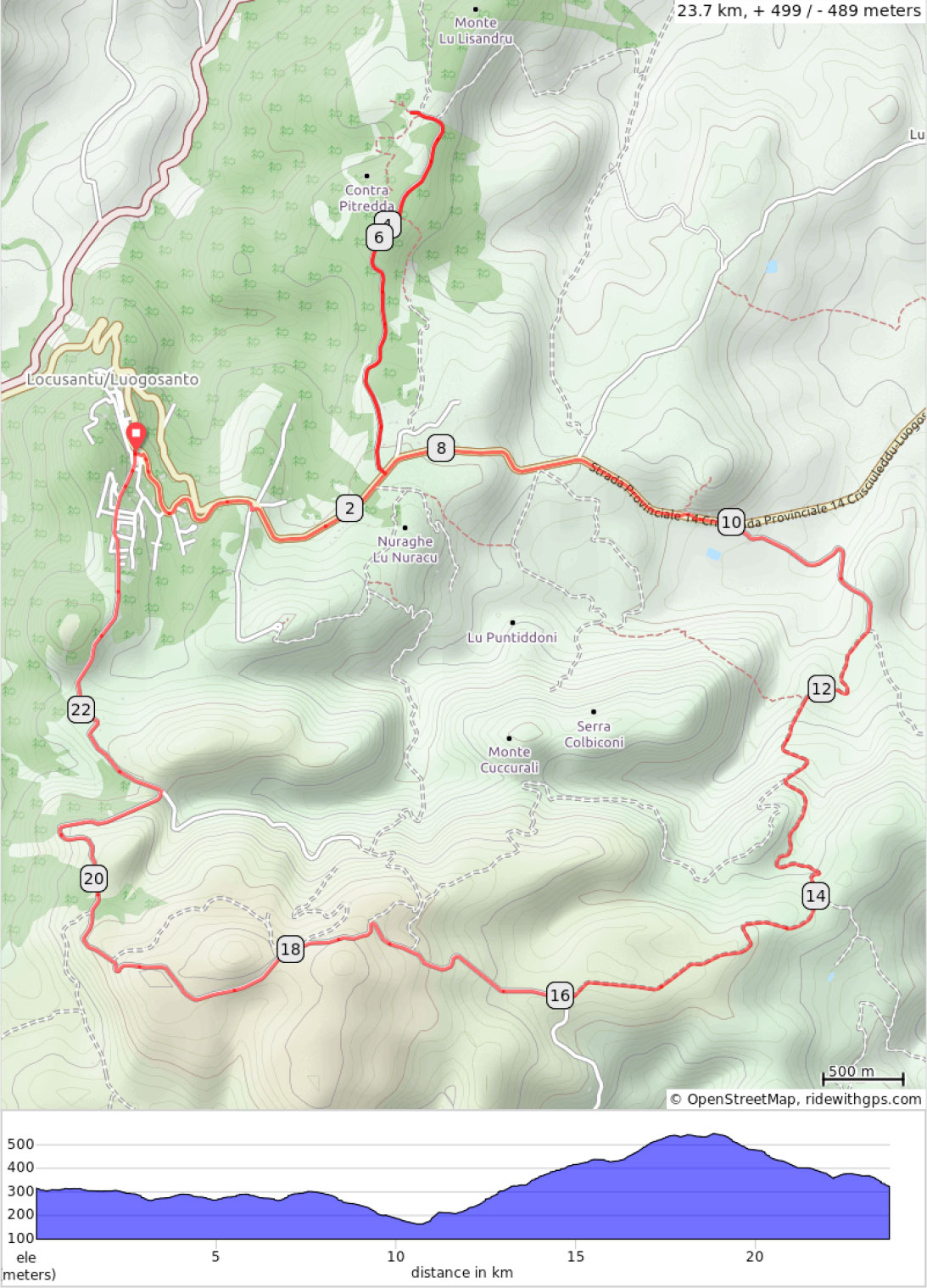 Translated with Google Translate